Olivier Marin, violist and composer, performs regularly as a soloist and chamber musician at music festivals worldwide where he presents original recitals combining classical, contemporary and world music. His most recent composition Undō, for viola, electronic sound and video was selected to be performed at the International Viola Congress in the Netherlands in 2018, the New York City Electroacoustic Festival (USA), the Noisefloor Festival (UK) and the Code d'accès festival Montréal (Canada).
Olivier Marin by May Kassem, "an artist with the soul of a troubadour in search of freedom" radio soundtrack Lebanon 96.2FM
2018 PEDAGOGY…
—SMALL NOTES AND EPHEMERALS PIECES
PETITES NOTES ET PIECES EPHEMERES ©
The musical board game The internet site
Design : Olivier Marin
illustrations: Tiphaine Boilet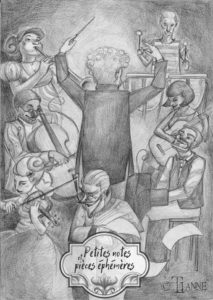 Here's the plot :
"Among the orchestra whose name is "It's raining cat and dogs", a tragic event has occured!
Our renoooooooowned conductor Umberto Di Draculano was deserted and betrayed by his musicians
during a concert at the Grand Scala Philarmonica Prestissima Del'Unica Prestisima Musica.
His so
called "Atlantis" symphony sunk into an unspeaaaaaaaaakable cacophony.
His audience was so disappointed that they threw tomatoes and other odd rubbish at him. No need to say the reputation of our dear maestro was stained forever.
A picture of him, dressed in dirt, was published on the front page of daily newspapers.
But the conductor is not fool,
as he knows some of his musicians played badly on purpose in order to shame him.He swore never to be back on stage until he found the guilty pupil! Get ready, then … get ready to play for your defense! "
PRICE OF THE REALIZATION OF AN INSTRUMENTAL METHOD OR MUSICAL TRAINING
Organized by the Chambre Syndicale des Éditeurs de Musique de France
Prize of the 6th edition of the Musical Education Awards
« PETITES NOTES ET PIÈCES ÉPHÉMÈRES » OLIVIER MARIN (PARIS)

2017   UNDŌ
"L'automne est arrivé
venant visiter mon oreille
un oreiller de vent"
Haiku de Matsuo Bashõ ( 1644-1695 )
Composition and interpretation : Olivier Marin (viola)
Video : Jullian Hoff
Software used : Audiosculpt, Ableton Live, Open Music, Resolum Arena
2015   EXILS
"Exils" is a musical show inspired by "La divine comédie" by Dante Alighieri. This show transports the spectator into an internal journey through hell, purgatory, and heaven accompanied by Virgile.
---
Material used as background music for my viola:
– Micro double static / air head
– AER Amp compact60
– Effects Pedals: Strymon Delay / MXR Disto / Harmonizer HOG2 / Looper BOSS RC30
2015   PEDAGOGY… 
—STORY OF THE SEAGULL AND THE CAT WHO TAUGH HER TO FLY
Based on the novel by Luis Sepùlveda, a Chilean writer.
Theatrical-musical show that has achieved great success with audiences and juries, conducted as part of my DE with great viola class Vinciane Beranger  professor at Paris 6th conservatory.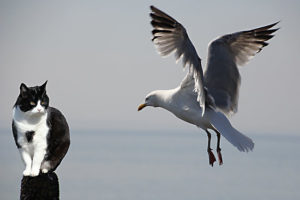 SCENARIO

SYNOPSIS
This creation was inspired by a "Kata", a Japanese form in martial arts. Katas are specific patterns of movement based on combat techniques. Although the goal of these gestures are militant in nature, they incorporate an artistic energy that arises from the pattern where one gains a deeper understanding of the philosophy behind the kata. Here is his interpretation of the kata "Empi" : "the swallow".
Graphic partition starting from the movements of the kata 'Empi', carried out by Bruno Marin (3rd dan)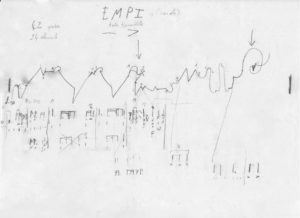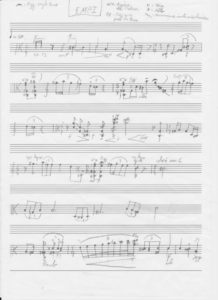 Part for viola, inspired by Kata of Karate Shotokan "Empi" Kata of the swallow, composition and interpretation Olivier MARIN.
This text, by Flora Bourne-Chastel was inspired by real events and refers to the nuclear tests carried out on an island in the Pacific Ocean named Mururoa. The music was created for the text without any digital sounds. The majority of the sound effects were recorded on his viola, djembe, voice, guitar.
In the year 1300, in the gardens of the Alhambra in Granada, riders tried to seduce a Moorish princess leaning against a fountain. Weary of their ways, she laughed at them and mocked their alleged heroic deeds. They left and went far away, in a burning rage, swallowing their pride.